November 02, 2004
Vote Safely, and Check Your Work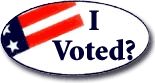 All the polls, predictions, and futures markets come down to 15 or so hours today. It's still looking close, which means that more than ever, every vote counts. Make sure yours does by following these tips from David Dill on the e-voting experts weblog.
Prepare before going to the polls. Mark your votes in advance on the sample ballot that was mailed to you.

Why?

We're getting reports of long lines during early voting. This will make voting faster.
A few voters have reported that some offices were not on their screens, and that they didn't discover it until they had returned to their home or car. If they had the list with them, any problem could have been detected immediately, in time to save their votes and perhaps get a witness to the problem.

... more ...
More e-voting resources from EFF's Deeplinks and Verified Voting.
Posted by Wendy at November 02, 2004 05:31 AM | TrackBack