November 06, 2004
Map-Mania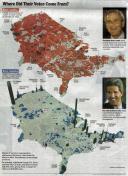 It's time to trade our national obsession with electoral-vote.com for a new craze -- maps visualizing where the votes really came from. The Big Picture has assembled a collection of maps with population, geography, and a bit of political black humor.
The most compelling explanatory map is the Washington Post's topography, with mountainous blue cities and rolling red plains. (click for larger version) Via IP.
In a feeble attempt to relate this to copyright, how would the fact that these images were "just lying around the internet gathering dust anyway" factor into a fair use analysis (for the maps that have sufficient expressive content to be copyrightable in the first place)?
Posted by Wendy at November 06, 2004 08:08 AM | TrackBack

US-Wahlkarte: Stadt vs. Land
Excerpt: Washington Post: Where Did Their Votes Come From
Weblog: Wortfeld: Anderswo im Netz
Tracked: November 7, 2004 10:29 AM