June 16, 2005
Of Copyrights and Cakes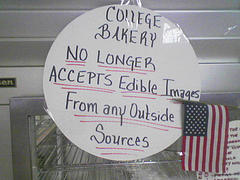 BoingBoing posts Clay Shirky's photo of the IP-maximalist warning from his local bakery.
What College Bakery is saying with that sign is "The risk of being sued is so high that we'll give up on helping paying customers create their own cakes." This is Trusted Computing for frosting.
It's amazing to see signs like this. Equally amazing, though, are the comments posted in the boingBoing thread: lawyers write that IP requires companies to "police" their property or lose it; non-lawyers argue that everything other than a direct copy is non-infringing. Neither is true: copyright is never lost by non-enforcement, and trademark demands policing only against confusing designations of source. Non-identical copies can still be derivative works -- either infringing or fair use as the case may be. But at the end of the day, no one's rights are threatened by "unauthorized" cake decorating. As my colleague Jason notes, the whole discussion shows how polarized the "intellectual property" debates have become -- and how far out of touch with ordinary people's expectations.
Posted by Wendy at June 16, 2005 04:37 PM | TrackBack

Bäcker sind Raubkopierer
Excerpt: Ein weiterer Fall aus der Reihe "Wo Geistige Monopolrechte frei drehen": Bäckereien in den USA beginnen nun, Ängste zu entwickeln, sie könnten wegen ihren Kuchen verklagt werden. Nicht, dass sie jemandens Rezept klauen würden, nein: es geht um diese Kuche
Weblog: Leben am Existenzmaximum
Tracked: June 16, 2005 06:08 PM
Birthday Cakes are Nature's Way of Telling Us to Reform Copyright
Excerpt: BoingBoing passes along a story about how a bakery is now refusing to produce edible images for cakes that come from outside sources, presumably due to copyright concerns (Copyright Cops Crack Down on Cooks Over Cakes). It would be funny...
Weblog: The Importance of...
Tracked: June 16, 2005 06:47 PM
Let Them Eat Cake
Excerpt: A lovely mini-essay on copyright, culture, and cake, by our own Jason Schultz, written in response to a discussion about the same over @ BoingBoing: As an actual copyright and trademark attorney, I feel this sort of discussion highlights exactly...
Weblog: Copyfight
Tracked: June 17, 2005 08:03 AM