Aaah, silence (music to start a random shuffle)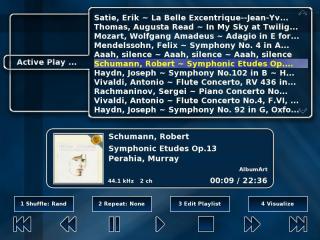 I've recently ripped my entire CD collection to hard drives (in lossless flac format) for playback from my MythTV through my stereo amp. I ripped the classical pieces with multiple movements to a single file, so I'd be able to mix them without getting movements separated from one another, and having done that, I found myself enjoying the random shuffle mode more than I'd expected.
As I've set it up (patch), MythTV's music module lets me show music sorted by genre and composer, or to create playlists by individual selection or database query. "Shuffle" mode can take any of those sets and rearrange automatically. But I also found that if I selected a collection before hitting "randomize," it would default to alphabetical order. That meant I was hearing the first few bars of Albert, Stephen (Cello Concerto) quite a lot. There had to be a better way.
So I grabbed a few moments of /dev/zero to a wav file (sox -t nul /dev/zero silence.wav), encoded it to various formats, and tagged it "Aaah, silence," a name unlikely to be bumped down even if I accidentaly tag "Aaron Copland" first-name-first. After importing any of these into my music collection, I have 3 minutes and 40 seconds to randomize before Albert or Albinoni shows up by default.
Here, for your listening enjoyment Aaah, Silence (or try the flac or mp3 versions).
Posted by Wendy at
12:06 AM