April 12, 2005
Car Hacks: Modify your car to drive on vegetable oil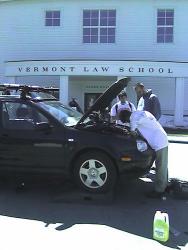 At the Vermont Law School Solutions Conference, my brother Mark not only helped to organize a panel, he presented a live real-time demonstration, modifying his car to run on vegetable oil.
As part of the C.A.R.S (Carbon Assessment and Reduction Strategies) project, Mark Seltzer, '05 Masters Student will be modifying his Volkswagen Turbo Diesel to run on renewable vegetable oil. The project consists of installing a heated fuel tank and fuel lines. Once the modifications are complete, the car starts on standard diesel fuel but can be switched over to vegetable (standard fryer oil) once the engine has warmed up. Low emissions and a renewable fuel!
Armed with the Treo, I served as unofficial photographer. Check out Mark's webpage or the Flickr set. Though I had to leave before the end, Mark reports that the conversion was a success, and he can now drive on french fry grease. And I thought demoing a HD-MythTV was tough. Congrats Mark!
Posted by Wendy at April 12, 2005 06:37 AM | TrackBack