June 28, 2004
Mattel to Pay for "Frivolous," "Unreasonable" Barbie Lawsuit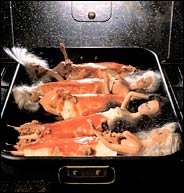 In December, I noted artist Tom Forsythe's legal victory, when the 9th Circuit held that "Food Chain Barbie" was fair use. Now, the district court has fortified that ruling with a substantial award of attorneys' fees, $1.8 million, the New York Times reports.
"Plaintiff had access to sophisticated counsel who could have determined that such a suit was objectively unreasonable and frivolous," Judge Lew wrote in his order. "Instead it appears plaintiff forced defendant into costly litigation to discourage him from using Barbie's image in his artwork. This is just the sort of situation in which this court should award attorneys fees to deter this type of litigation which contravenes the intent of the Copyright Act.''
As Berkman colleague Jonathan Zittrain notes in the Times, this ruling helps avert the chilling effect of legal threats, if it causes executives and their counsel to think twice before sending groundless and unreasonable complaints.
Posted by Wendy at June 28, 2004 11:30 PM | TrackBack

Totally Jeffersonian
Excerpt: Just when you thought all news about the fight for fair use was bad news, we have two exercises in parody to brighten the day: Zippy the Pinhead goes "Totally Jeffersonian" in a strip on "wacko" exceptions to copyright. Meanwhile,...
Weblog: Copyfight
Tracked: July 13, 2004 12:17 PM
Totally Jeffersonian
Excerpt: Just when you thought all news about the fight for fair use was bad news, we have two exercises in parody to brighten the day: Zippy the Pinhead goes "Totally Jeffersonian" in a strip on "wacko" exceptions to copyright. (Ah,...
Weblog: Copyfight
Tracked: July 13, 2004 12:20 PM