NFL / DMCA
February 08, 2007
My First YouTube: Super Bowl Highlights or Lowlights
I snipped the copyright warning out of the weekend's Super Bowl broadcast as an example for my copyright class of how far copyright claimants exaggerate their rights.
This telecast is copyrighted by the NFL for the private use of our audience. Any other use of this telecast or of any pictures, descriptions, or accounts of the game without the NFL's consent, is prohibited.
Let's see whether the video, clear fair use, gets flagged by a copyright bot.
Update: My First DMCA Takedown, a mere 5 days later.
Posted by Wendy at 10:04 AM
February 13, 2007
That didn't take long. On Feb. 8, I posted to YouTube a clip taken from the Super Bowl: not the football, but the copyright warning the NFL stuck into the middle of it, wherein they tell you it's forbidden even to share "accounts of the game" without the NFL's consent.
Their copyright bot didn't seem to see the fair use in my educational excerpt, so YouTube just sent me their boilerplate takedown. Time to break out that DMCA counter-notification.

-------- Original Message --------
Subject: Video Removed: Copyright Infringement
Date: Tue, 13 Feb 2007 15:43:24 -0800 (PST)
From: DMCA Complaints
To: peppercornconsider 

Dear Member:

This is to notify you that we have removed or disabled access to the following
material as a result of a third-party notification by National Football League claiming
that this material is infringing:

Super Bowl Highlights: (http://www.youtube.com/watch?v=a4uC2H10uIo)

Please Note: Repeat incidents of copyright infringement will result in the deletion of
your account and all videos uploaded to that account. In order to avoid future
strikes against your account, please delete any videos to which you do not own the
rights, and  refrain from uploading additional videos that infringe on the copyrights
of others. For more information about YouTube's copyright policy, please read the
"Copyright Tips" guide: http://www.youtube.com/t/howto_copyright.

If you elect to send us a counter notice, to be effective it must be a written
communication provided to our designated agent that includes substantially the
following (please consult your legal counsel or see 17 U.S.C. Section 512(g)(3) to
confirm these requirements):

(A) A physical or electronic signature of the subscriber.

(B) Identification of the material that has been removed or to which access has been
disabled and the location at which the material appeared before it was removed or
access to it was disabled.

(C) A statement under penalty of perjury that the subscriber has a good faith belief
that the material was removed or disabled as a result of mistake or misidentification
of the material to be removed or disabled.

(D) The subscriber's name, address, and telephone number, and a statement that
the subscriber consents to the jurisdiction of Federal District Court for the judicial
district in which the address is located, or if the subscriber's address is outside of
the United States, for any judicial district in which the service provider may be
found, and that the subscriber will accept service of process from the person who
provided notification under subsection (c)(1)(C) or an agent of such person.

Such written notice should be sent to our designated agent as follows:

DMCA Complaints
YouTube, Inc.
1000 Cherry Ave.
Second Floor
San Bruno, CA  94066
Email: copyright@youtube.com

Please note that under Section 512(f) of the Copyright Act, any person who
knowingly materially misrepresents that material or activity was removed or disabled
by mistake or misidentification may be subject to liability.

Sincerely,
YouTube, Inc.
Update: Here's the NFL's demand (not very informative).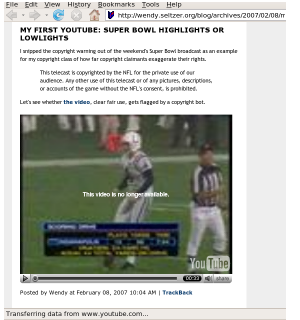 Posted by Wendy at 08:55 PM
February 15, 2007
DMCA Saga Act II: Counter-NotificationUnder the Digital Millennium Copyright Act's safe harbor provisions, Internet service providers are immunized from monetary liability for users' copyright infringements if the ISPs follow notice-and-takedown procedures set out in Section 512. 512 also includes a counter-notification-and-putback procedure, 512(g), by which ISPs are encouraged* to replace material if they get a counter-notification asserting "good faith belief that the material was removed or disabled as a result of mistake or misidentification of the material to be removed or disabled."
So, having received a mistaken DMCA notification, I sent my counter-notification to YouTube, generated with the Chilling Effects counter-notice generator. 512(g) instructs the ISP to replace the material in 10-14 business days. Check back in March to see if YouTube reposts those Super Bowl copyright warnings. — *The encouragement? They're immunized from suit by their users if they put back. Alert readers of TOSs will notice, however, that the ISPs terms of service usually provide this immunity already, even if the ISP dumps a user for no reason at all. 512(g) doesn't have much bite.
Posted by Wendy at 05:57 PM
March 06, 2007
We Have Put-Back: Super Bowl Warnings Back OnlineAt least in this case, YouTube seems to be following the DMCA's notice-takedown-counter-repost dance. Fourteen business days (512(g)'s outer limit) from my counter-notification, I received this email from YouTube:
Dear Wendy, In accordance with the Digital Millennium Copyright Act, we've completed processing your counter-notification regarding your video http://www.youtube.com/watch?v=a4uC2H10uIo. This content has been restored and your account will not be penalized. For technical reasons, it may take a day for the video to be available again.
The NFL has apparently chosen not to sue to keep the video offline. Once again, therefore, viewers can see the NFL's copyright threats in all their glory. I'm left wondering how many other fair users have gone through this process. On Chilling Effects we see many DMCA takedowns, some right and some wrong, but very few counter-notifications. Part of the problem is that the counter-notifier has to swear to much more than the original notifier. While NFL merely had to affirm that it was or was authorized to act on behalf of a rights-holder to take-down, I had to affirm in response that I had "good faith belief that the material was removed or disabled as a result of mistake or misidentification of the material to be removed or disabled." A non-lawyer might be chilled from making that statement, under penalty of perjury, even with a strong good faith belief. Thanks for all the comments!
Posted by Wendy at 06:37 PM
March 17, 2007
The Uses of the DMCA: Viacom v. YouTubeI have my complaints with the DMCA's notice-and-takedown regime, but where I think it goes too far toward chilling speech, Viacom thinks it doesn't go far enough. That's the gist of its recent complaint against YouTube. Viacom argues that despite YouTube's DMCA compliance, taking down videos when notified of copyright claims, the site should be held liable for direct and indirect infringement of Viacom's copyrighted works (specifically, public performance, public display, reproduction, inducement, contributory, and vicarious infringement — what, no derivative works claim?).

Viacom is trying to renege on the bargain of the DMCA, in which copyright holders get pre-judicial injunctions against claimed infringement, and service providers are guaranteed immunity so long as they follow the takedown procedures. Viacom never alleges YouTube failed its side of the deal — it doesn't point to a single un-complied-with takedown demand. Rather, it claims that requesting takedown is just too hard. Not content with a procedure that already strips away the free-expression protections of judicial oversight, Viacom wants to shift the burden to YouTube (and others like it) of preemptively filtering materials for possible copyright infringements. Viacom's approach would have serious anti-innovation consequences. The DMCA gives hosting startups a predictable framework. (Note that YouTube succeeded as an independent startup where the established Google couldn't make Google Video popular.) Where hosts can't anticipate what users will post, they can nonetheless ensure against copyright liability by promising to take down material they're told is infringing, by any copyright claimant. Viacom would instead have them negotiate first with (any? all?) copyright holders to install a pre-filtering system. Since automated filtering is far from perfect, this system would be both expensive and inaccurate. It would bankrupt the small startups and leave the larger ones open to the next lawsuit from a copyright holder who hadn't been consulted on the first filter. Google might be able to go down that road, but they'd be about the only ones. Viacom and friends would have veto power over any newcomers to the field. Now that may well be what Viacom wants. That veto is what they got with another provision of the DMCA, the anticircumvention laws, but it's not what serves the public best. The safe-harbor bargain may be flawed, but Viacom's proposed alternative is worse.
Posted by Wendy at 04:15 AM
March 18, 2007
NFL Clip Down AgainI promise this blog won't become all-DMCA all the time, but as this saga gets more convoluted, it illustrates even better the problems with the law and with the various pressure groups' copyright demands. (See the complete set of NFL-DMCA posts.)
In apparent defiance of my counter-notification, the NFL sent YouTube another takedown notice, which YouTube followed with another takedown a few days ago, giving notice to me yesterday. Now when I sent my counter-notification to the first NFL notice, on February 14, YouTube forwarded it on to the NFL per the DMCA's specification. Since my counter-notification included a description of the clip, "an educational excerpt featuring the NFL's overreaching copyright warning aired during the Super Bowl," it put the NFL on clear notice of my fair use claim. The DMCA way for NFL to challenge that, per 512(g)(2)(C), would be to "file[] an action seeking a court order to restrain the subscriber from engaging in infringing activity relating to the material," which they haven't. Sending a second notification that fails to acknowledge the fair use claims instead puts NFL into the 512(f)(1) category of "knowingly materially misrepresent[ing] … that material or activity is infringing." If the NFL deigned to respond, I expect they would argue something like "the volume of material is so high, we can't possibly keep track of all the claims of non-infringement. Our bots are entitled to a few mistakes." But if they're not able to keep track of the few counter-notifications they've received (the YouTube URL and page stayed the same at all times it's been up), how can they demand that YouTube respond accurately and expeditiously to all the DMCA notifications they send, or worse, filter all content as Viacom is demanding?
Posted by Wendy at 10:38 AM
April 05, 2007
NFL: Second Down and Goal?Today, 12 business days after I re-sent my DMCA counter-notification, YouTube sent notice that they had restored my Super Bowl excerpt. Catch it while you can, because I'm not holding my breath that it will stay online this time either.
The chronology so far:
By my count, that's 17 days up, 38 days down, not counting "technical problems" that prevented access to the video on some days when it was not sidelined by a notification. In the first takedown first DMCA takedown NFL sent YouTube in February, shortly after the Super Bowl, my video of the copyright warning was among 162 URLs listed. After YouTube re-posted my video, NFL's second DMCA notice singled out just one video, the one for which I had counter-notified on fair use grounds. If there was any excuse that the first claim was just a bot's overactive pattern-matching — an excuse the NFL doesn't rely on in its response on the Wall Street Journal's Law Blog — that excuse evaporated by the time I counter-notified. Rather, NFL Spokesman Brian McCarthy argues,
We are entitled to disagree, in good faith, with her asserted defense, absent a court decision. (3) We have valid grounds to disagree with the professor's fair use argument. Had she simply used the clip in her classroom, before students, she might have had a stronger argument that the context was educational and entitled to fair use deference. But it was posted without any of this context, and in a manner available for anyone in the world to see, not just her students.
I think their fair use analysis is wrong as a matter of law, and therefore it was "knowingly materially misrepresenting" to claim that the clip infringed after getting notification of the clip's content. I'm entitled to share this type of educational fair use with more than the students in my classroom. (I'm not trying to rely on the TEACH Act with its crabbed DRM requirements.) I post my syllabus and teaching slides online for anyone to see, and wanted to post this discussion similarly. On the fair use factors, I think I'm in good shape: My use is for nonprofit educational purposes; the copyright in the telecast is thin; the portion of football that follows the copyright warning is a minute portion of the whole, with no significant action or commentary, useful to show people what it was the NFL claimed its copyright covered; and the effect on the market for or value of the work is non-existent. Too bad the U.S.'s WTO non-compliant gambling law prevents us from wagering on what will happen next…
Posted by Wendy at 08:24 AM
April 25, 2007
Foul ball: Baseball's copyright warningsSeveral people I talked to about the NFL copyright warning reminded me that Major League Baseball goes even further off the wall with its assertions. I grabbed a couple of local games last weekend and here present a comparison of the copyright warnings from the Yankees (via Fox) and the Mets (via CW11).
This copyrighted telecast is presented by authority of the Office of the Commissioner of Baseball [or Sterling Mets]. It may not be reproduced or retransmitted in any form, and the accounts and descriptions of this game may not be disseminated, without the express written consent [of Sterling Mets].
I have included no "accounts or descriptions of the game." In each clip, I tried to capture the warning plus a bit of the broadcast's context. In each case, YouTube chooses a screenshot from near the end, after the warning. Will MLB's copyright bots drop the ball? What's your favorite sports copyright claim?
Posted by Wendy at 08:18 PM