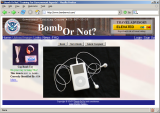 I'm sure I'm not the only person to see Bomb Or Not? Training For Government Agents! and wonder how long it will be before they get a cease-and-desist threat.
My guess, it won't be HotOrNot, who can recognize a good parody when they see one, but the Department of Homeland Security, which tends to see humor as a security risk.
DHS has already raised trademark claims against the Federation of American Scientists for ReallyReady.org, a critique-by-improvement of DHS's anemic Ready.gov. They could even crib from this href="http://www.chillingeffects.org/notice.cgi?NoticeID=578">White House complaint about use of the Presidential Seal.
We need a bit of Franklin D. Roosevelt here: The only thing we have to fear is fear itself. Or as Bruce Schneier puts it, "The surest defense against terrorism is to refuse to be terrorized."