August 31, 2005
Architecture and Transparency
More in the architectural vein, Ren has a cool post on the Anti-Sit, a gallery of building fixtures designed to keep passers-by on their feet. Ren compares the spikes on a fire standpipe to the curved surface of an L.A. bench:
But while both images seem to fall into this category [design in the service of social policy], the bench's design is coy. It's almost evasive. A casual pedestrian wouldn't immediately see that it was redesigned solely to deny a homeless person the comfort of a raised, dry sleeping platform. The hydrant design wears its mandate on its sleeve... to me it's about honesty and design.
The honesty that troubles Ren seems to me an instance of transparency -- or lack -- in policy-making. Both designs "regulate" activity, but the pipe's spikes make clear they're saying "Do not sit on the standpipe." The benches' curve is far more effective than a city ordinance banning sleeping on municipal benches, but it announces its rule only to the wanderer who wants to sleep there, not to the general public, who might agree or disagree with that rule. When social or legal policy is built into dual-purpose architecture this way, it's harder for the public to know where rules are coming from, and harder for them to challenge rules when they disagree.
Posted by Wendy at
08:33 AM
August 28, 2005
Architecture and Copyright: Order without law?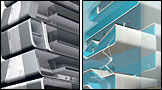 The New York Times runs an interesting piece on copying in architecture, Hi, Gorgeous. Haven't I Seen You Somewhere? While the article takes its cue from a recent lawsuit by an architecture student against the designer of the Freedom Tower, it calls that suit an anomaly. (See the Patry Copyright Blog for more on Shine v. Childs.) Most architects, apparently, don't sue, even when they see their work echoed by others.
Are architects just nicer than other copyright holders? Unlikely.
More probably, they've found alternatives to the legal protections copyright gives. Like artists everywhere, they copy from the masters. They also have other ways of protecting their authorship interests: Architecture clients need full buildings designed, not just pictures of facades; architects can complain publicly about others who fail to give credit for inspiration, lowering the reputation of someone who copyright law might say has only used an unprotectible idea [see Ellickson]; and the great designers aren't just re-selling their last-years' designs in any event.
As Elizabeth Diller of Diller, Scofidio & Renfro put it, "The only way to avert the problem of plagiarism is to be a moving target. If your work is copied and that upsets you, it means you waited too long to move on." That's a motto more industries should heed.
Posted by Wendy at
12:36 PM
August 11, 2005
Home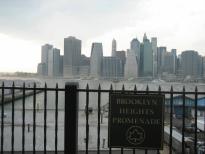 My brother Mark and I reached Brooklyn from San Francisco after a 4504.3 mile drive through 14 states: California, Oregon, Idaho, Montana, Wyoming, South Dakota, Minnesota, Illinois, Indiana, Michigan, Ohio, Pennsylvania, New Jersey, and New York. We used 175 gallons of gas, drove for 78 hours, and even saw some parks and cities along the way.
Photos from the roadtrip. More photos, commentary, and GPS coordinates once I've had a chance to rest!
Posted by Wendy at
01:38 PM
August 01, 2005
Brooklyn Bound
I'm leaving San Francisco for Brooklyn Law School, where I'll be a visiting professor, teaching Internet Law and privacy. I'll be experimenting with photo and mapping tech as I drive cross-country.
There may be some hosting hiccups as the webserver that lives in my closet is relocated.
Posted by Wendy at
04:12 AM